Morning Zen Yoga
Wednesdays 09:30-10:30, £12 drop-in
This class is designed to wake you up and prepare you for the day ahead. We will explore a variety of flow routines to help you become aware of any blockages, restrictions, or limitations in our mind-body, and start softening and unblocking these. My classes have a strong emphasis on strengthening and flexing the spine, allowing our body and limbs to function more optimally. The practice will leave you feeling refreshed and recharged ready for the day.
Booking and Further Information
£12 drop-in (£60 for block of 6 classes)
For enquiries contact Mark on mark@youruniverseyoga.co.uk or 07974 919732
---
Class Teacher – Mark Westmoquette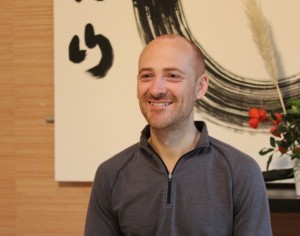 Mark has been teaching yoga since 2009 both in London and abroad. He has also been studying Zen with Daizan Roshi for almost 10 years.
His classes combine posture and flow routines designed to flex and strengthen the spine and body with the Zen techniques of mindfulness and meditation to bring about increased resilience, softness, awareness and connection.
Mark is one of the principle tutors on the Zenways 200hr yoga teacher training course, and also runs the Zenways 100hr meditation and mindfulness teacher training course.
Get a flavour of Mark's kind of practice here