Beginners Zen Meditation
Every Thursday 19:00-20:00
About the Class
Zen is strongly associated with group practice. Having the opportunity to be with others on the same path and in a place dedicated to this work is tremendously beneficial. This session is particularly aimed at beginners to meditation and/or Zen (fine also for more experienced practitioners).
We begin with chanting, then there will be some mindful movement practice or a talk by Mark, then Zazen (sitting meditation) with an opportunity for Sanzen (private Zen interview). For more information about the session, see the Zenways website (the website for our Zen group).
Paying a regular donation towards the class
You're very welcome to come a few times to see whether you find our style of practice helpful. There is no charge. However if you decide you want to attend regularly, you can sign up as a Zenways member and commit to sending a monthly donation to help cover the cost of the class – our Zen organisation relies for its survival on your donations.
For more information and how to sign up see the Zenways website.
---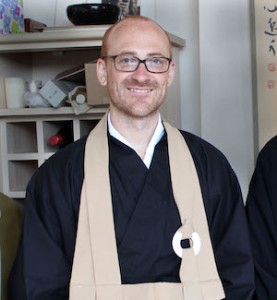 Class Teacher – Mark Kuren Westmoquette
Mark first began his Zen study with Daizan Roshi in 2007 and in 2011 he took the Bodhisattva precepts. In 2015 he took temporary ordination and went on a pilgrimage walk as a monk from Dorset to Lancashire with just an alms bowl to support me. In July 2016 he received permission to teach as a lay Zen teacher.
Until 2013 Mark was a scientist doing research in astronomy before he decided to shift careers. Now he teaches yoga, mindfulness and meditation full-time.