Zen Yoga
Sundays 15:00-16:00, £12 drop-in
Zen Yoga in particular emphasizes three intertwined areas – physical alignment, the flow of energy in the body and awareness (or mindfulness). Mindfulness of the body is one of the four practices taught by the Buddha that lead directly to enlightenment.
Each pose taught in this class brings new parts of the body into focus so that we can become aware of any tightness or restriction. As we bring our awareness to these areas of tension, they immediately start to shift and release.
Zen yoga practice melts away the tightnesses and resistances that prevent us from enjoying the flow of life.
This class is suitable for all levels.
Booking and Further Information
Please book and pay for your class online via Paypal, then bring your booking receipt with you to the class:
Please note that the annual pass is available anytime over the year and it will be valid for 12 months.
---
Class Teacher – Daizan Skinner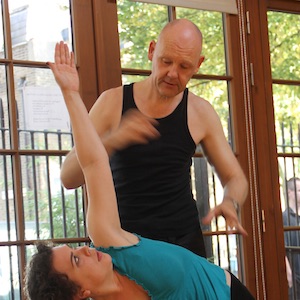 Daizan is the founder and director of ZenYoga.
Having studied in Zen monasteries over many years, Daizan is a Zen master in the Rinzai tradition. He has been teaching meditation and yoga in London since he returned from Japan in 2007.
His teachings emphasise the transformative power of mindfulness, melting away blocks and resistances so that we can enter life more fully and fearlessly.