​Important info: Autumn Package available!!! (save £20 plus 3 buying fees)
Rebirthing Club sessions dates at Zen Yoga Camberwell:
September 14th and 21st (14:30 to 17:30)
October 21st (3pm to 6pm)
November 9th (14:30 to 17:30)
£45 per session
Description:
Rebirthing/Breathwork Therapy is a defined breath technique that gently and consciously releases negative memories & stress, creating space for the changes in your lives. This work reveals our inner wisdom which then helps us to improve our quality of life.
Is Rebirthing a safe therapy/treatment ? Yes!!! Everything that emerges during the session has already been experienced in the past and has been locked inside by suppressing our breath. During Rebirthing we get the opportunity to release these emotions and set ourselves free.
The session:
– There will be a detailed induction about the session explaining the five elements of Rebirthing:
1. Circular Breathing
2. Awareness
3. Acceptance
4. Integration
5. Relaxation
– You will be asked to lie down on a comfortable mat to start your session.
– The work lasts 90min on average.
You will receive a guideline email prior to the session.
For more information, Q&A please visit:http://www.purnimabodywork.com/rebirthing-breathwork-therapy/—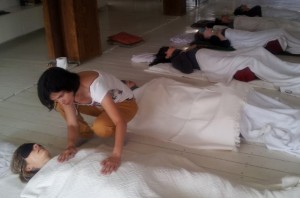 Rebirthing Club of London
Inspired by the Rebirthing Clubs borne in Brazil, the 'Rebirthing Club of London' is an iniciative of the therapist Ma Prem PURNIMA (Lilian Cordeiro de Melos). Our goal is to propagate this therapy and make it affordable to everybody enabling this technique to be experienced in group as a regular treatment in the city of London.
Purnima was trained by A. Ramyata, Samvara Bodewick and Robert Mandel and has extensive experience in leading groups of Rebirthing since 2001. (www.purnimabodywork.com)
Testimonials
"Last Monday was my fourth rebirthing session and I wanted to share just how beautiful and relaxing this therapy of self discovery truly is. This breath work therapy is life transforming and all through the power of breath. Thank you Purnima for offering this brilliant work and being so supportive to help me to promote a real change in my life. Leaving the sessions with only LOVE in my heart." (Tiago Di Mauro, film maker)
"A truly powerful experience of physical and emotional release. Thank you Purnima" (Nadia Steward, Yoga Teacher)
"The rebirthing sessions fill me with self love and connect me to the immense power that lies in the flow of my feelings. You can never know what journey to expect in a session, you learn to trust your breath and your body to carry you through, towards greater freedom. In the safe space powerfully and gently held by Purnima I find it easy to let go and surrender to the process." (Zuzu Qi, therapist)
"Last Monday I had one of the most profound Rebirthing experience, it was a session of deep healing! " (Thais Mennsitieri, actress and performer)
Further Info and Bookings