Zen Yoga
Tuesdays 7-8 pm, drop-in £12
Class description
My classes combine mindful posture and flow routines with an aim to finding how to both strengthen and soften the body and mind, build flexibility and develop our connection with the ground and the world around us. To me yoga means the union of seemingly opposite forces/concepts to find what lies beneath and beyond. Although my classes are not particularly fast-paced, they can still be physically intense. Can we find strength through letting go? Can we find intensity within gentleness?
Note that Mark often runs closed courses in this time slot – for more info see Mark's website www.youruniverseyoga.co.uk. While a course is running there are no drop-ins.
Booking and Further Information
For enquiries contact Mark on mark@youruniverseyoga.co.uk or 07974 919732
---
Class Teacher – Mark Westmoquette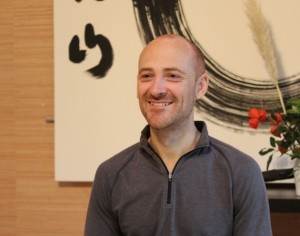 Mark has been teaching yoga since 2009 both in London and abroad. He has also been studying Zen with Daizan Roshi for almost 10 years.
His classes combine posture and flow routines designed to flex and strengthen the spine and body with the Zen techniques of mindfulness and meditation to bring about increased resilience, softness, awareness and connection.
Mark is one of the principle tutors on the Zenways 200hr yoga teacher training course, and is also a tutor on the the Zenways 100hr meditation and mindfulness teacher training course.
Get a flavour of Mark's kind of practice here